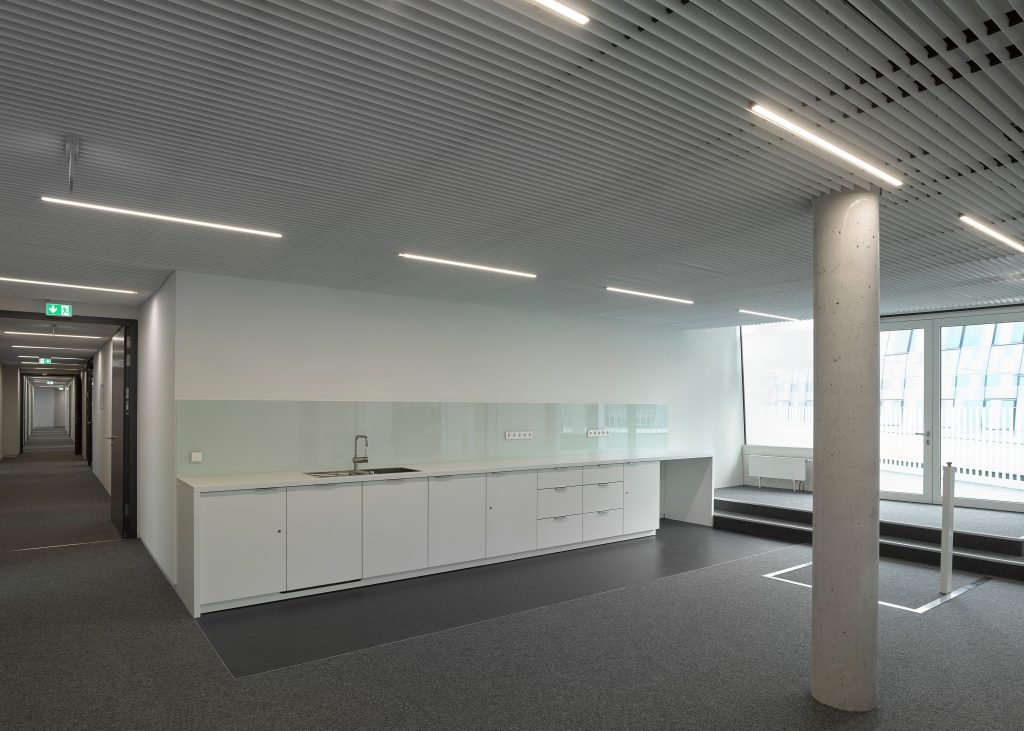 The successful premiere for the new V-Slat from HAUFE Ceiling Systems took place at the most prominent location in Stuttgart. Because the new Dorotheen Quartier by Behnisch Architekten is located in the heart of the city, between Königstraße and the Old Palace, and in the direct vicinity of Martin Elsaesser's famous Markthalle. Anyone passing through the city on the B14 urban motorway cannot fail to notice the Dorotheen Quartier with its striking roofscape.
Behnisch Architekten completely rearranged this area of Stuttgart. Previously, it was perceived more as the back of the Breuninger department store. Now three blocks were created, which turned the previously frayed inner-city area back into an experienceable sequence of squares. Because this district in the centre of the city is also historically highly dense, the Dorotheen Quartier has become a hotly debated local topic. Above all, the asymmetrical roofscape with the luxury apartments underneath caused a stir. But because the view of Stuttgart is mostly from the edges of the valley basin downwards, the roof view as the "5th façade" is particularly important in this city.
High-quality gastronomy, adequate retail trade and the aforementioned luxury apartments made the Dorotheen Quartier a demanding building task – also and especially in the interior design. The architects therefore chose the new V-lamellae from HAUFE Ceiling Systems, which were used on around 3,000 square metres in white RAL 9003 – supplemented by around 200 square metres of the standard U-lamella system in black. The slat spacing is 50 mm for both systems.
The HAUFE ceiling systems were mainly used in the corridors, where they support the effect of the expressive architecture. This was a particular challenge for the planning. The hallways vary greatly in width. For this reason, it was not possible – as is usually the case with HAUFE – to precisely determine and adjust the slats by planning a ceiling mirror, the slat lengths and the support rail spacing. Rather, they were only adapted on site in this project. HAUFE was thus able to demonstrate the great flexibility of the system once again. Incidentally, the new V-lamella system was used here on a large scale for the first time. HAUFE designed a new mounting rail tool especially for this purpose in order to fix the lamellas perfectly in the mounting rail.
Architect: Behnisch Architects, Stuttgart
Publisher: Jäger Ausbau GmbH
HAUFE product: V-slat, similar to RAL 9003 and U-slat, similar to RAL 9005
Photographer: David Matthiessen
Fact Box:
– approx. 3,000 sqm V-lamella white
– Realized: 2017