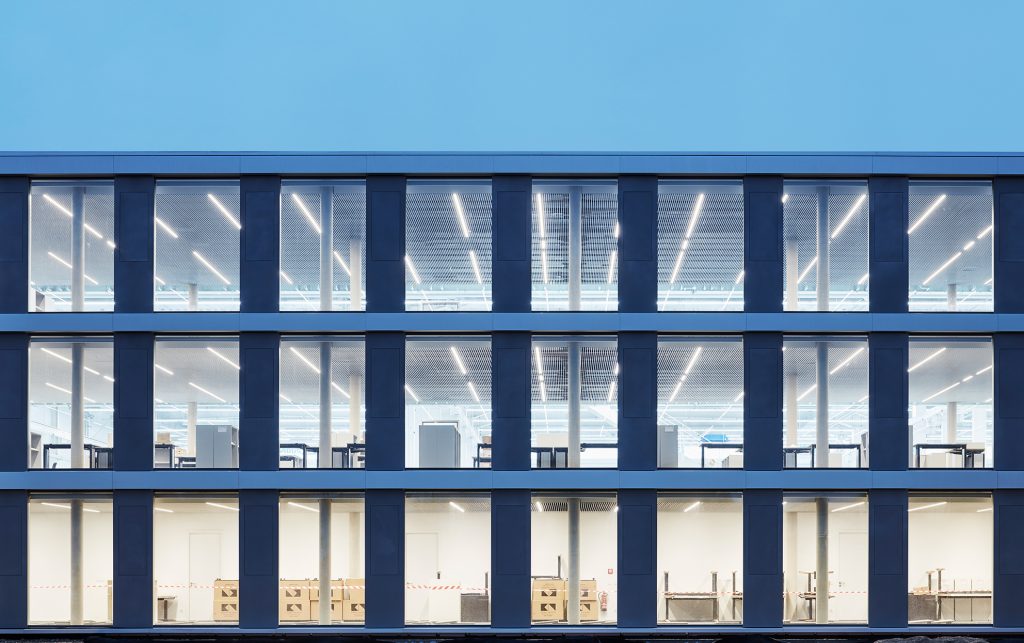 A new production and office wing was built next to the former EMAG headquarters in Salach. It offers space for a 6,000 square metre production hall and a further 4,000 square metres for offices, meeting rooms and social rooms. The topics of sustainability and the use of waste heat played a major role. HAUFE surface temperature control is the perfect match for this sustainable, flexible concept. Because our lamella ceiling fulfils all the factors required for a good room climate: heating, cooling and sound absorption!
The EMAG project was the first new building to be equipped with HAUFE's surface-tempered lamella system over an area of 1,600 square metres. The system enables the rooms to be cooled and heated with the least amount of energy.
Surface temperature control is the ideal complement to heat exchangers operating in the low temperature range. No additional fossil energy sources are required, since with flow temperatures of max. 30° C is used for heating. This means that large building complexes can be operated completely self-sufficiently.
Two thirds of the total area of the open-plan office was covered with surface temperature control elements. No temperature control elements were introduced in the central areas of the room. Since the lamella system was mounted continuously, no difference can be seen. It was sufficient to cover the required cooling load with the occupancy of the peripheral areas.
The lamellas are micro-perforated and equipped with an acoustic absorber material. By reducing the reverberation, this thus contributes to pleasant room acoustics. The lighting concept is perfectly adapted to the system, creating a harmonious overall picture.
We would like to explicitly thank the Neugebauer + Rösch team for the pleasant cooperation, as well as the Rienth company, which implemented the installation of the ceiling with competence and technical precision.
Architect: Neugebauer + Rösch Architects
Publisher: Rienth GmbH
HAUFE product: HAUFE surface temperature control with acoustic effectiveness, acoustic slats; both similar to RAL 9003
Photographer: Dietmar Strauß
Fact Box:
– Total area: approx. 1,650 sqm
– HAUFE surface temperature control with acoustic effectiveness