Haufe – Standard slatted ceiling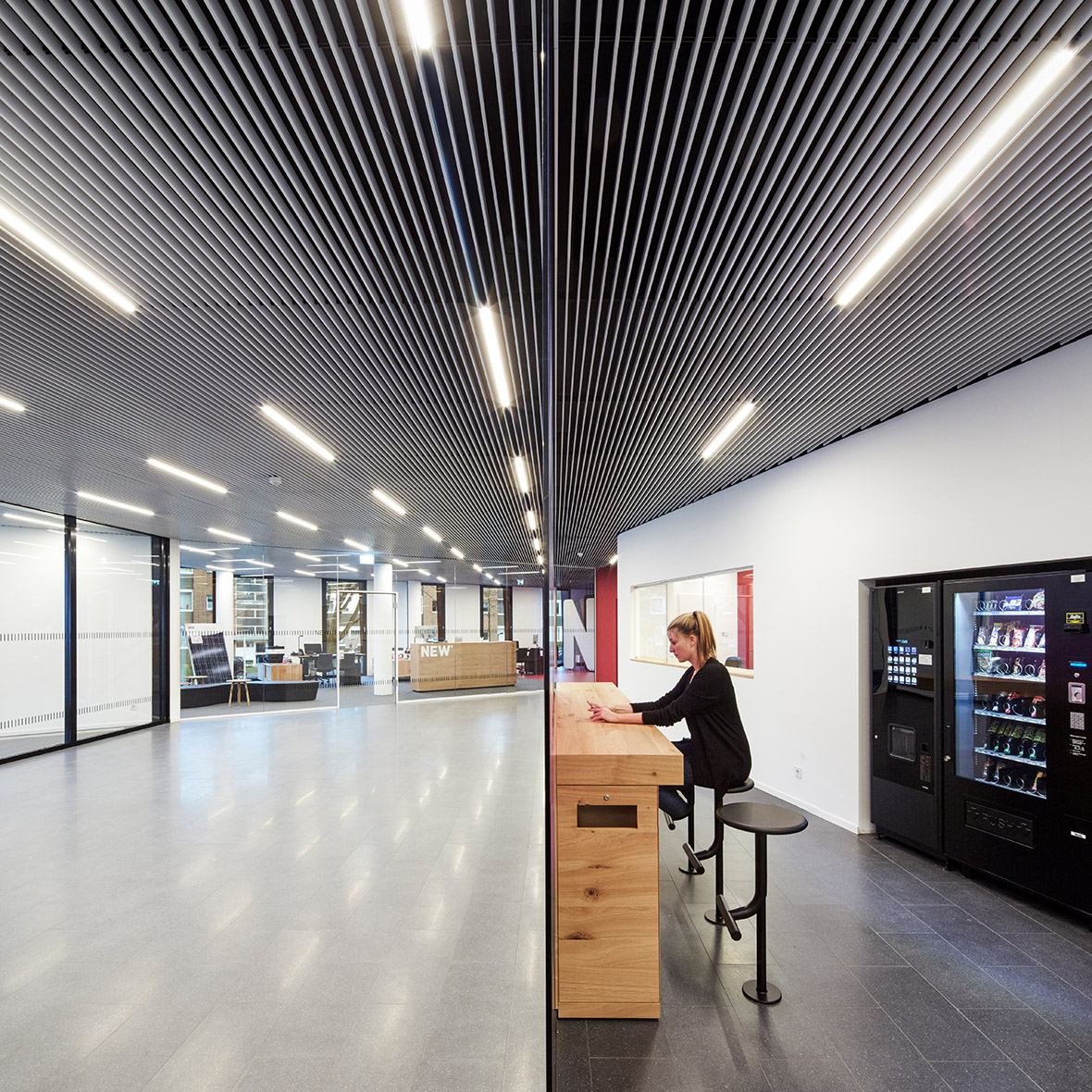 Structuring with the standard slatted ceiling
The HAUFE lamella systems are characterized above all by their stringent and exact linearity. The lamellas are very versatile plane and layable. They therefore offer sufficient leeway for individual solutions – without you having to forego the security of a mature system.
The distances between the slats and also the support rails are freely selectable. Both continuous rows and recessed luminaires can be integrated flush into the HAUFE lamella ceiling. It adapts perfectly to the most diverse locations with their different technical and constructional requirements. Because the colour design of the slats can also be chosen almost freely, they can be found in office buildings, conference centres and event rooms as well as in museums, sales rooms and public buildings of all kinds.
The slats and support rails are made of aluminium (strip material thickness 0.4 mm). The profiles of the U-slat are 10 mm wide. The standard slat height is 40 mm. Special heights of 50/60/70 mm are also possible. The lamina spacing (measured from axis to axis) is called the modulus. The module can be defined individually.
The V-slats are naturally more elegant and graceful due to their profile, and are also 4 mm higher than the U-slats. U- and V-louvres offer the same technical details and functional advantages.
The support rails are used to fix the slats. They can be scheduled at irregular intervals. In order to guarantee the lines of the lamellas, we recommend distances between 800 and 1,200 mm, occasionally distances up to max. 1,500 mm possible. Every 700 to 800 mm, the mounting rails are attached to the raw ceiling with quick-action suspension brackets and suspension wires (to be provided by the customer). It is also possible to attach the mounting rails directly to fixtures or the ceiling without quick-action hangers by means of brackets or screws (also to be provided by the customer) in order to gain room height.
HAUFE lamella ceilings are available in all RAL and NCS shades as well as a wide range of special finishes such as eloxal or wood look as well as highly matt surfaces. You can find our standard colours in our technical brochure. Sections and further details can also be found in the technical brochure.