HAUFE surface temperature control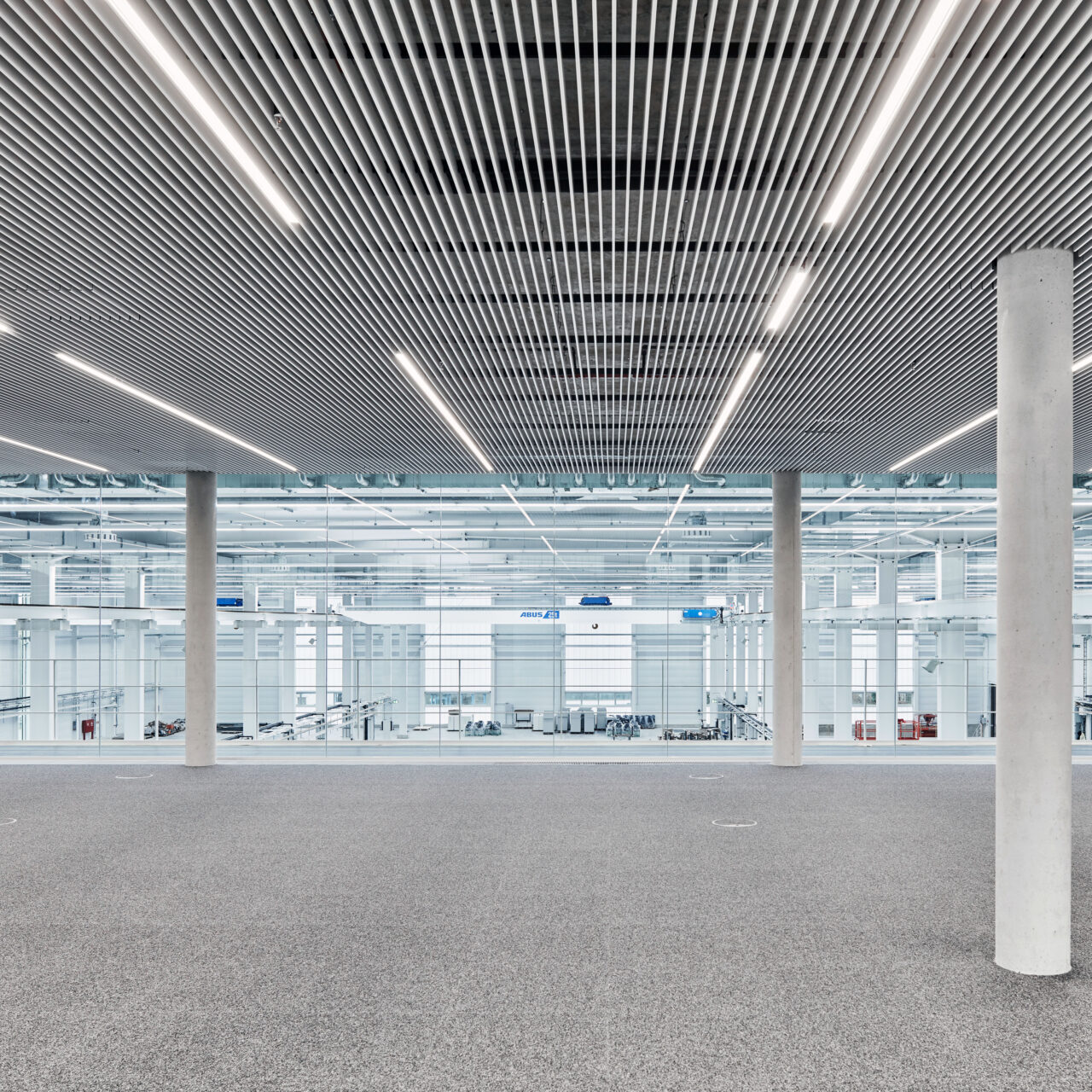 Heating and cooling with one system
In addition to acoustics, the room climate plays a particularly important role nowadays. We have also risen to this challenge and developed an innovative system that can both heat and cool. This creates a pleasant room climate which, in combination with microperforation and acoustic fleece, perfectly meets the requirements of climate and acoustics.
The idea
Three components are decisive for the perception of comfort: Air and surface temperature and the humidity in the room. When these are in the right proportion, you feel good. A good room climate and pleasant room acoustics help people to concentrate better and to work in a relaxed manner. However, it is often difficult to combine all three requirements in a cost-effective and sophisticated way. We took on this complex task and developed a louvre system that cools and heats the room and significantly reduces the reverberation time in the room.
High efficiency, lower costs
The HAUFE surface temperature control system clearly stands out from many commercially available climate control ceilings due to its extremely positive cost balance. Due to flow temperatures of 19 to 20 °C for cooling and 26 to 28 °C for heating as well as a large flow volume, the running operating costs are up to 75% lower compared to conventional heating/cooling systems. A building can be heated and cooled with only one overall hydraulic circuit. Conventional planning with concrete core activation or underfloor heating is superfluous, as HAUFE surface temperature control implements this function more quickly and efficiently. In addition, the system can be operated exclusively with renewable energy sources such as geothermal energy and heat exchangers. If the required electricity is generated by a photovoltaic system, sophisticated planning makes it possible to operate the entire building in a self-sufficient and CO2-neutral manner, regardless of its size.
A well-rounded overall package
Supply and exhaust air, fire protection measures, lights and other built-in components are perfectly integrated into the louvre system. Special acoustic lamellas significantly reduce the reverberation time. The low installation height of the system significantly reduces construction costs. The cooperation with our system partners guarantees the correct dimensioning of the system. In the planning phase, the installation components, the position of the heating circuit distributors and all other details can be planned precisely, thereby creating a uniform appearance of the ceiling.
Due to their geometries, rooms cannot always be 100 % occupied with temperature control elements. For this reason, the slats are continued in the edge areas without temperature control, so that a uniform ceiling appearance is created. In these areas, for example, inspection flaps can be planned for the heating circuit manifold.
For quality assurance purposes, installation companies must take part in a one-day training course beforehand and be certified in this way. A list of certified companies can be requested from us.
You can find more information about the principle of heating and cooling in our image brochure and the technical brochure.
Sustainable building
Sustainable building is a standard for us. We process extremely durable products with the best functional properties and high economic efficiency. The material properties are ecological and seamless in their verification. In addition, the HAUFE surface temperature control system is suitable for use in accordance with DGNB, the German Sustainable Building Council.
– DGNB-compliant
– Use of the ceiling possible for more than 50 years
– Aluminium strips consist of 70 % recycled material
– All materials – including the HAUFE surface temperature control – can be separated individually and are therefore 100 % recyclable.
– Plastic heating elements exclusively made of one material (polypropylene) – better recycling possible